At the inaugural in-person IPSO Founding Members' Congress held in Vienna, Austria, the session "Hemorrhagic Stroke in Childhood: News and Views in Managing Cerebral Vascular Malformations" was co-moderated by Dr. Mesha Martinez. Below is a vivid summary of the great scientific discussion that went on between the audience and speakers on pediatric hemorrhagic stroke; a particularly important and transdisciplinary subject for the pediatric stroke community and improving outcomes in children.
It was the best session of the conference, but only because Oprah 2022 was there (aka Dr. Mesha Martinez). Dr. Grégoire Boulouis started off the session by discussing the treatment criteria for pediatric unruptured brain AVMs (ubAVMs) from a neurointerventionalist's prospective- to treat or not to treat? A fascinating discussion as he delved into the 2005 work of Fullerton et al. "Long-term hemorrhage risk in children versus adults with brain AVMs" and discussed unpublished, preliminary data regarding high-risk angiographic features that predict AVM rupture that will change angiographic interpretation as we know it! Concluding, he stated he was of one mind with most pediatric neurosurgeons; INRs should help with this disease process, but not cure it. Greg, did you sell us out?
Next up was neurosurgeon Dr. Ethan Winkler, also discussing the treatment of ubAVMs in the pediatric population, but from a surgical perspective. In his opinion, he agrees with Dr. Boulouis, that surgery is the first line of treatment for ubAVMs. Sharing his group's exciting work, "Bringing high-grade arteriovenous malformations under control: clinical outcomes following multimodality treatment in children" he reviewed this group's treatment algorithm that can help clinicians navigate best care for patients, with indications for embolization (by the wonderful interventional neuroradiologists) and indications for stereotactic radiosurgery. Throughout his talk, he highlighted the importance of a multi-disciplinary teams in treatment decisions, reiterated that "the one size fits all approach" is not appropriate for these patients, and stressed the importance of including the patient's family in the decision-making process. Standing ovation Ethan!
Then the all too hilarious and insightful Dr. Edward Smith spoke next about cavernous malformations in the pediatric population. He gave a concise and informative talk apprising the audience with all we needed to know, and what is still not known, about cavernous malformations. Highlighting treatment criteria (take it out if it is a problem) and surgical tactics. We next took a short journey to the future of medicine, as Ed described his group's experience with 3D printing. With his quick wit, that he utilized throughout his talk, (please excuse my laughing into the mike the entire time) he concluded that there is more to know about this disease process and its treatment. We enjoyed your sense of humor and not taking yourself too seriously. Encore Ed!
Last, but not least was Dr. Lucas Eljovich, discussing how to select patients for treatment with vein of Galen malformation (VOGM). Beginning, Lucas broke it down by reviewing the embryology, angioarchitecture of VOGM and presentation of disease in various age groups. He then went on to patient selection for treatment, associated morbidity and mortality and his center's experience including his work "Retreatment of a choroidal vein of Galen malformation with embolization of 42 years after open surgical treatment in the neonatal period." And again, we had an opportunity to travel into the future as Lucas discussed an ongoing trial of intrauterine treatment of VOGM currently enrolling patients at Boston Children's by Dr. Darren Orbach's group. Bravo Lucas!
We concluded the session with exciting questions and discussion. The only improvement request was that next time Oprah include gifts under the chairs…maybe at the next in person conference!
Checkout the IPSO Congress session, "Hemorrhagic Stroke in Childhood: News and Views in Managing Cerebral Vascular Malformations", on the IPSO Members' Area. This session plus the entire recorded IPSO Congress content is available to all IPSO members at no-cost on the IPSO Members' Area.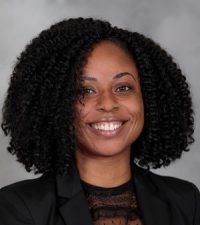 Mesha Martinez, MD
Riley Hospital for Children
Dr. Mesha Martinez is a pediatric radiologist, neuroradiologist and neurointerventionalist. She received her undergraduate degrees in Psychology and Biological Sciences from the University of Delaware in 2005. She gained her Doctor of Medicine from Temple University Hospital in Philadelphia, Pennsylvania in 2009, with subsequent training in internal medicine (2010), and completed a diagnostic radiology residency graduating in 2014. She did additional training in pediatric neuroradiology at Lucille Packard Children's Hospital Stanford and pediatric radiology at the Children's Hospital of Philadelphia and St. Christopher's Hospital for Children (Philadelphia). She then went on to complete ACGME-accredited fellowships in Pediatric Radiology at the Children's Hospital of Philadelphia (2015), Diagnostic Neuroradiology at the Icahn School of Medicine Mount Sinai Hospital in New York City (2016) and Endovascular Surgical Neuroradiology at The Johns Hopkins Hospital in Baltimore) (2018). She earned her certification from the American Board of Radiology in 2016.
Currently she is the director of Pediatric Neurointerventional Radiology at the Riley Hospital For Children, having initiated many pediatric dedicated cerebrovascular programs serving the children of Indiana and surrounding areas. Dr. Martinez specializes in vascular diseases of the brain, spine, head and neck in adults and pediatrics. Her research and clinical interests include diagnosis and treatment of perinatal and pediatric neurologic, neurovascular and psychiatric diseases. She is passionate about medicine and patient advocacy, and her practice philosophy is to ensure her patients get the best care. In her spare time she enjoys reading and spending time with her husband and sons.