From summer 2019 through spring 2020, the IPSO working group will draft the IPSO charter that will outline the organizational structure and governance, and establish subcommittee goals, charges, and timelines.  The charter will be ratified at the IPSO Founding Members' Congress in May, 2020.

We invite all professionals with an interest in pediatric stroke and cerebrovascular disease to join the IPSO Working Group.
Current Working Group Members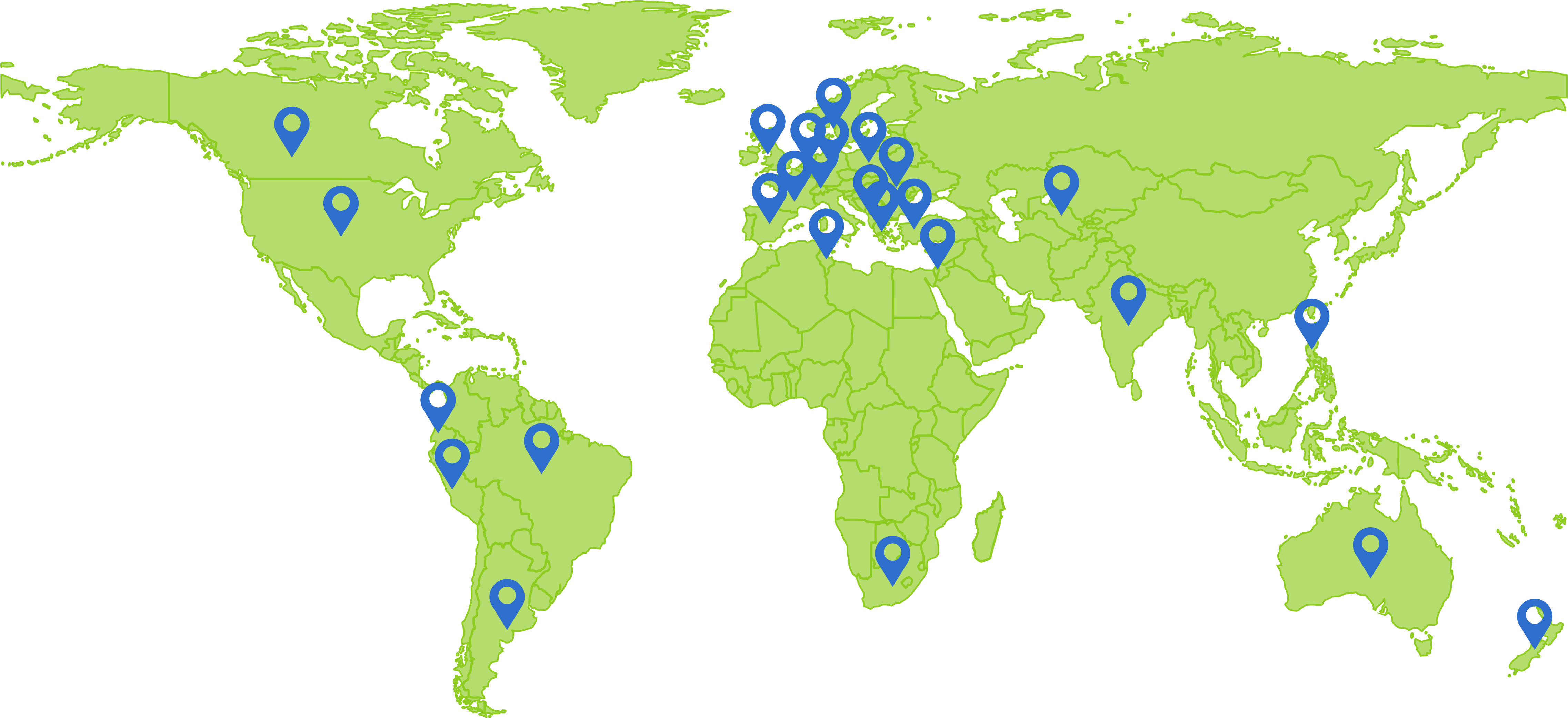 Argentina
Maria Celeste Buompadre, Buenos Aires
Austria
Rainer Seidl, Vienna
Barbara Volkmar, Salzburg
Canada
John Andersen, Edmonton, Alberta
Andrea Andrade, London, Ontario
Gabrielle deVeber, Toronto, Ontario
Noma Dlamini, Toronto, Ontario
Michelle Gratton, London, Ontario
Anthony K C, Hamilton, Ontario
Adam Kirton, Calgary, Alberta
Alexandra Linds, Toronto, Ontario
Janette Mailo, Edmonton, Alberta
Aleksandra Mineyko, Calgary, Alberta
Mahendra Moharir, Toronto, Ontario
Mubeen Rafay, Winnipeg, Manitoba
Ratika Srivastava, Edmonton, Alberta
France
Maryline Carneiro, Lyon
Stéphane Chabrier, Saint-Etienne
Manoëlle Kossorotof, Paris
Greece
Dimitrios Zafeiriou, Thessaloniki
Israel
Moran Hausman-Kedem, Tel Aviv
New Zealand
Kelly Jones, Auckland
Philippines
Marilyn Tan, Manila
Serbia
Vesna Brankovic-Sreckovic, Belgrade
Spain
Veronica Gonzalez, Barcelona
Tunisia
Chahnez Charfi Triki, Sfax
United Kingdom
Anna Basu, New Castle
Katharine Forrest, Glasgow
Vijeya Ganesan, London
Finbar O'Callaghan, London
Uzbekistan
Furkat Samadov, Tashkent
Australia
Karen Barlow, South Brisbane
Roslyn Boyd, Brisbane
Mark Mackay, Melbourne
Simone Mandelstam, Melbourne
Christina Miteff, New Castle
Paul Monagle, Melbourne
Brazil
Ana Carolina Coan, Campanis
Columbia
Adriana Carolina Vargas, ChÃa
Germany
Lucia Gerstl, Munich
Markus Schmid, Bad Hersfeld
Jan-Christoph Schoene-Bake, Hannover
India
Lokesh Lingappa, Hyderabad
Netherlands
Manon Benders, Utrecht
Linda de Vries, Utrecht
Peru
Leidi Vilchez Fernandez, Lima
Poland
Ilona Kopyta, Katowice
South Africa
Rajeshree Govender, Durban
Switzerland
Maja Steinlin, Bern
Joel Fluss, Geneva
Turkey
Erhanj Aksoy, Ankara
Tuğçe Aksu Uzunhan, Istanbul
Sakir Altunbasak, Adana
Mujgan Arslan, Isparta
Kursat Bora Carman, Eskisehir
Gulhis Deda, Ankara
Ozgur Duman, Antalya
Gultekin Kutluk, Antalya
Ibrahim Oncel, Ankara
Pinar Ozbudak, Ankara
Bahattin Sayinbatur, Diyarbakir
Esra Serdaroglu, Tokat
Mine Serin, Izmir
Serap Teber, Ankara
Dilsad Turkdogan, Istanbul
Delik Yalnizoglu, Ankara
Sanem Yilmaz, Izmir
Deniz Yüksel, Ankara
United States
Adib Abala, San Francisco, California
Gulcin Akinci, Ann Arbor, Michigan
Nihal Bakeer, Indianapolis, Indiana
Megan Barry, Aurora, Colorado
Tim Bernard, Denver, Colorado
Miya Bernson-Leung, Boston, Massachusetts
Lauren Beslow, Philadelphia, Pennsylvania
Jonathan Bixby, San Francisco, California
Aaron Boes, Iowa City, Iowa
Khyati Brahmbhatt, San Francisco, California
Danielle Brown, Phoenix, Arizona
Joan Carney, Baltimore, Maryland
Deanna Carter, St. Louis, Missouri
Asim Choudhri, Memphis, Tennessee
Beth Anne Cavanaugh, Denver, Colorado
Brian Appavu, Phoenix, Arizona
Melissa Chung, Columbus, Ohio
Kathleen Colao, San Francisco, California
Michael Dowling, Dallas, Texas
Lucas Elijovich, Memphis, Tennessee
Ryan Felling, Baltimore, Maryland
Christine Fox, San Francisco, California
Stuart Fraser, Houston, Texas
Neil Friedman, Cleveland, Ohio
Heather Fullerton, San Francisco, California
Stephanie Garrison, Indianapolis, Indiana
Joseph Gemmete, Ann Arbor, Michigan
Marcia Goeden, Kansas City, Missouri
Kristin Guilliams, St. Louis, Missouri
Nalin Gupta, San Francisco, California
Steven Hetts, San Francisco, California
Deborah Hirtz, Burlington, Massachusetts
Robert Hurst, Philadelphia, Pennsylvania
Becky Ichord, Philadelphia, Pennsylvania
Lori Jordan, Nashville, Tennessee
Akash Kansagra, St. Louis, Missouri
Akash Kansagra, St. Louis, Missouri
Mitul Kapadia, San Francisco, California
Colleen Kearney, Hackensack, New Jersey
Maria Kuchherzki, San Francisco, California
Gogi Kumar, Dayton, Ohio
Jonathan Kurz, Chicago, Illinois
Sarah Lee, Stanford, California
Kate Lefond, Seattle, Washington
Laura Lehman, Boston, Massachusetts
Warren Lo, Columbus, Ohio
Tara Mangum, Phoenix, Arizona
Mesha Martinez, Indianapolis, Indiana
Elizabeth Mayne, Chicago, Illinois
Anne Morse, Danville, California
Carla Morton, Fort Worth, Texas
Christine Mrakotsky, Boston, Massachusetts
Darren Orbach, Boston, Massachusetts
Steven Pavlakis, Brooklyn, New York
Paola Pergami, Washington DC
Bryan Philbrook, Atlanta, Georgia
Frank Pidock, Baltimore, Maryland
Michael Rivkin, Boston, Massachusetts
Brad Schlaggar, Baltimore, Maryland
Mukta Sharma, Kansas City, Missouri
Kathryn Sievers, San Francisco, California
Edward Smith, Boston, Massachusetts
Nick Stence, Aurora, Colorado
Michael Taylor, Cincinnati, Ohio
Jo Tilley, Fort Worth, Texas
Marcela Torres, Fort Worth, Texas
Sudhakar Vadivelu, Cincinnati, Ohio
Arastoo Vossough, Philadelphia, Pennsylvania
Mark Wainwright, Seattle, Washington
Maria Whitmore, Indianapolis, Indiana
Jenny Wilson, Portland, Oregon
Max Wintermark, Stanford, California
Max Wiznitzer, Cleveland, Ohio
Tisha Wong, Portland, Oregon
Organizational Structure
The IPSO Working Group will outline the IPSO Organizational Structure.  The International Pediatric Stroke Study (IPSS), founded in 2003, will continue its functions as a centralized data and imaging core for multicenter pediatric stroke studies.  The IPSS will support the mandate and mission of IPSO. It will now be considered the clinical research arm of IPSO.  IPSO members can choose to participate in the IPSS data registry and funded multicenter studies administrated by the IPSS.   However, they may also participate in other IPSO activities and committees, without participating in the IPSS. 
IPSO Committees will include a Clinical Guidelines Committee, Patient Advocacy Committee, Training and Mentoring Committee, Event Program Committee and others to be determined by the IPSO Working Group.
IPSS Committees will include a Scientific Committee and Publications Committee that will support the scientific productivity of the network by the development of hypothesis-generating and hypothesis-driven research and the  publication of manuscripts. There will also be a clinical data working group determined on an as needed basis.
Please note this is a draft version of the IPSO organizational structure. The IPSO working group will finalize the org structure.