By Ariane Soldatos & Amanda Ombrello. 
Case: A previously healthy 14-year-old patient presents with a small stroke in the basal ganglia following upper respiratory symptoms. You do the usual vascular, cardiac and thrombophilia work-up which is unrevealing. You place the patient on a baby aspirin for secondary stroke prevention.
Question: What important additional test should you add to your list? How will that result alter your management?
Answer: Consider testing for ADA2 deficiency. ADA2 deficiency is a systemic inflammatory disorder characterized by three manifestations: vasculitis resulting in rashes and strokes, abnormal immune function and hematologic disease, caused by mutations in the ADA2 gene. Physicians should think of this disorder in children presenting with cryptogenic strokes (classically lacunar strokes, but occasionally spontaneous hemorrhagic strokes) even in the absence of systemic inflammatory features which can be subtle (such as mild livedo racemose or mild elevations in blood inflammatory markers like ESR and CRP). This can be screened for by measuring the ADA2 enzyme level which is a free and rapid turnaround test available at multiple labs including Dr Michael Hershfield's lab at Duke University. You can also send genetic testing as the ADA2 gene is part of multiple gene panels from commercial testing companies, however, keep in mind that in some cases the defect on the second allele may be more cryptic to detection (e.g., deletion, splice mutation).
Question: You hear back from the lab that the ADA2 enzyme level is nearly zero. What does this mean? What should you do next?
Answer: A near absent ADA2 enzyme level is diagnostic of ADA2 deficiency. Strokes in ADA2 deficiency are inflammatory in nature (due to a small vessel vasculitis/vasculopathy) and driven by a dominant cytokine Tumor Necrosis Factor (TNF). Blocking this cytokine is the most effective modality of stroke prevention. Acutely you can use high dose steroids to reduce the inflammatory burden but, as individuals with ADA2 deficiency  have had recurrent strokes while on steroids, TNF inhibition is the desired long-term treatment. Various medication options in that category are available such as etanercept, or monoclonal antibodies like adalimumab which we sometimes combine with methotrexate to mitigate antibody formation to monoclonal antibody drugs which can decrease their efficacy over time. In addition, blood vessels in ADA2 deficiency are friable, predisposing patients to hemorrhages such that unlike most other scenarios of ischemic stroke, antiplatelet therapy such as aspirin (even low-dose) and anticoagulants are generally contraindicated (in rare cases of adult patients with other concomitant risk factors such as atrial fibrillation the risk-benefit ratio may be weighed differentially).
Question: What implications does this have for other family members?
Answer: ADA2 deficiency is a recessive genetic disease that doesn't have any ethnic predisposition; thus, most patients will not have any relevant family history. ADA2 deficiency can manifest first in adulthood and in some patients, there are no significant prodromal rheumatological clues, so it is important to test clinically asymptomatic siblings who may in fact turn out to be affected. In those cases, TNF-blockade should be strongly considered for primary stroke prevention.
Question: Are there disease manifestations that do not respond to TNF-blockade?
Answer: ADA2 deficiency has protean systemic manifestations. It can also affect the bone marrow progenitor cells and manifest as neutropenia or other cytopenias. In those cases, some patients will progress to requiring hematopoietic stem cell transplantation despite TNF-blockade.
Interested in learning more about ADA2? Dr. Soldatos and Dr. Ombrello presented at the IPSO Expert Corner in March of 2022. All IPSO members can access the recording of the presentation in the IPSO Members Area. 
Links to Relevant Scientific Publications:
Original description of DADA2 disease: Zhou Q et al. Early-onset stroke and vasculopathy associated with mutations in ADA2. NEJM 2014. 

PMID: 

24552284
Evidence for stroke prevention with TNF-blockade in DADA2: Ombrello AK et al. Treatment Strategies for Deficiency of Adenosine Deaminase 2. NEJM 2019. 

PMID: 

30995379
Phenotype of cohort of patients with DADA2 syndrome followed at NIH: Barron KS et al. The Spectrum of the deficiency of Adenosine Deaminase 2: An Observational Analysis of a 60 Patient Cohort. Front Immunol. 2022. PMID: 35095905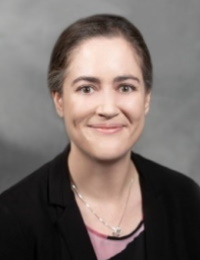 Ariane Soldatos, MD, MPH
National Institutes of Neurological Disorders
Dr. Ariane Soldatos is a pediatric Neurologist at the National Institute of Neurological Disorders and Stroke. Dr. Soldatos specializes in neuro-ID and autoimmune neurology. She also evaluates patients with genetic CNS vasculitis syndromes and inflammatory stroke.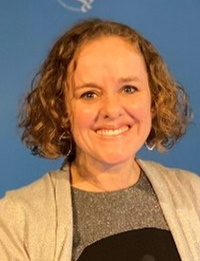 Amanda K. Ombrello, M.D.
National Human Genome Research Institute
Dr. Amanda Ombrello is an adult and pediatric rheumatologist at the National Human Genome Research Institute. Dr. Ombrello specializes in autoinflammatory syndromes and is part of the group who first described patients with DADA2 and led various treatment trials including TNF-blockade. She continues to lead the study of the largest cohort of DADA2 patients in the World.