IPSO had its 3rd conference virtually, April 28-29th, 2023. The goal of the conference was to "unify the global community of professionals engaged in research and clinical care for children with cerebrovascular diseases, and chart a path forward for multinational, multidisciplinary efforts" and it was a success! The speakers were top-notch and the content was cutting-edge. Many thanks to the scientific program committee and everyone else behind the scenes who made this happen. Some highlights of the meeting:
Global Perspective: Pediatric Stroke Management in Indonesia
Angga Krishna explained the challenges that face neurovascular experts throughout the world where financial and supply limitations impact options for patients and the creative way physicians find to give the patients the care they need.
Advances in the Critical Care of Neonates and Children with Stroke
Michaela Waak introduced us to the concept and importance of neuroprotection, while Brian Appavu discussed multimodal monitoring in the ICU, demonstrating how CO2 reactivity and TCDs can be used to target therapies in the ICU. Steven Miller discussed neonatal stroke: from the ICU to the home, explaining how periventricular leukomalacia is the tip of the white matter injury iceberg. He emphasized that day-to-day care in the NICU impacts outcomes. For example, decreasing neonatal pain results in increased thalamic volume, which increases cognitive abilities in childhood.
Health Equity in Pediatric Stroke Research
Lesli Skolarus emphasized that social determinants of health drive neurologic inequities and the importance of the research team to amplify the voice of the community. Maja Steinlin then updated us on the PASTA trial, which is enrolling children with focal cerebral arteriopathy to high dose steroids and aspirin or aspirin alone. We were pleased to hear that the trial is "still cooking!" Finally, Warren Lo shared his experience with diversity and inclusion in a rehabilitation trial for children with stroke.
Ariane Soldatos discussed "moyamoya and immunodysregulatory Syndromes," highlighting DOCK8 immunodeficiency with elevated IgE and eosinophils: another one to add to your moyamoya etiology list!  Then, Ike Lagunju reviewed "The clinical characteristics of paediatric strokes in Ibadan, Nigeria." The most common cause is sickle cell disease, although TCD screening has decreased the incidence. Rounding out the abstracts, Dr. Elissa Engel discussed the "prevalence and predictors of HHT and CM-AVM" in children presenting with Neurovascular Malformations." They found that 27% ended up with a diagnosis of HHT or CM-AVM. We should be considering and testing for these disorders.
New Insights into Childhood Arteriopathies and Cerebral Blood Flow
In her talk on genetics of congenital vasculopathies, Moran Hausman-Kedem convinced us that we should be evaluating genetic causes of pediatric stroke. What is new? Micro RNA is being studied as a novel biomarker for cerebrovascular diseases, lipidomics play a role in moyamoya disease, and ACTA2 ("smooth muscle dystrophy"), will have a natural history study soon.
John Wanebo then discussed the genetics and proteinomic contributions to moyamoya. He reviewed the two pathologic processes of moyamoya disease: vascular stenosis and aberrant angiogenesis and proposed a "two hit" theory involving both genetic and environmental factors.
In his talk, "moyamoya disease emerging as an immune-related angiopathy," Francis Impens led us down the path that took him from researching infection to studying stroke. He found that RNF213 protects cells against infection and reviewed the clinical evidence linking moyamoya disease with autoimmune and infectious disorders. We were excited to hear about his Multimoya (MULTI-omics analysis of immune triggers in MOYAmoya disease) project – using multi-omics on cells of moyamoya patients and controls to understand the pathogenesis of this disease.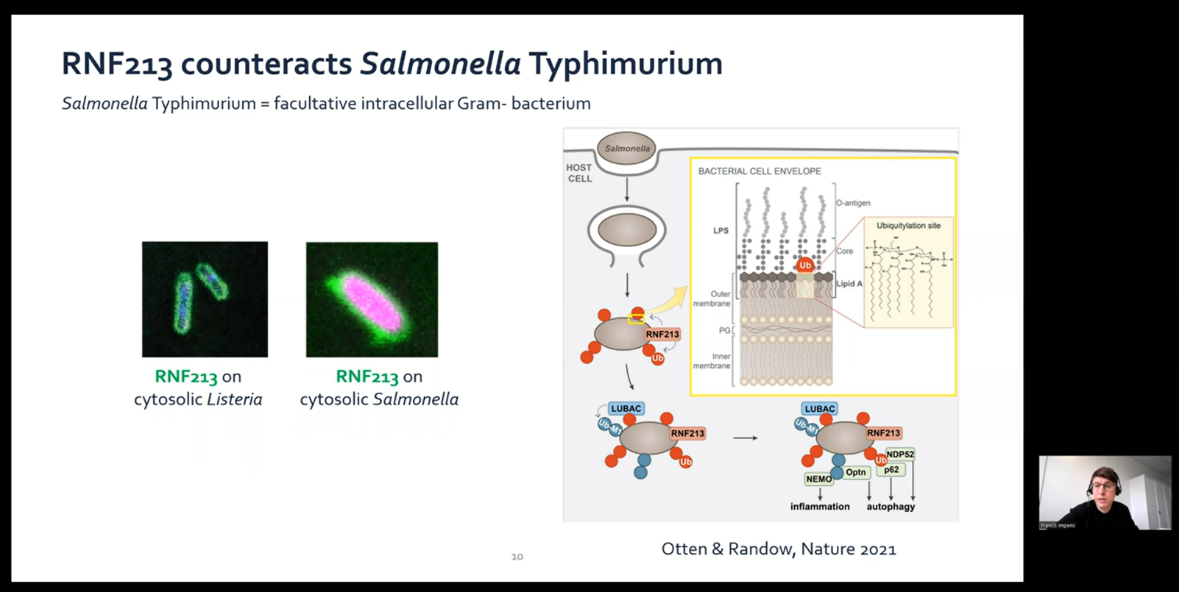 (Dr. Frances Impens discussing the antibacterial role of RNF213)
Finally, Steven Hetts discussed cerebral collaterals and their Importance in cerebral occlusive disease. Some key points: children have higher cerebral blood flow than adults, children with favorable collaterals had smaller acute infarct volume, and in subarachnoid hemorrhage, only kids with the poorest collaterals develop symptomatic vasospasm.
Research Collaborations Update
In her discussion of language outcomes after perinatal stroke, Elissa Newport demonstrated that children with a history of left hemispheric neonatal stroke have normal language function and homotopic regions in their right hemispheres activate when they hear language. Dr. Newport is recruiting children with a history of stroke (). Silvia Buratti reviewed the first vein of Galen malformation international registry with the goal of helping us better understand this disorder and improve outcomes (). Lori Jordan then presented on sickle cell research and health equity. She reviewed the SPRING study which showed that hydroxyurea decreases stroke in sickle cell in Nigeria where preventative transfusions are not feasible, and how advocacy work then led to government funding for this treatment.
Emerging Medical Treatments for Pediatric Cerebrovascular Disease
This session had me on the edge of my seat. There are so many exciting developments in vascular malformation research, this is a must-watch. First, Oh Young Bang reviewed alternative medical treatments for moyamoya, including cilostazol, which has been associated with decreased mortality in adults compared to other antiplatelet agents. Other treatments under investigation: burr holes with erythropoietin and mesenchymal stem cell exosomes. Then, Issam Awad in his riveting talk on emerging therapies for cavernous malformations explained that cavernomas grow due to both gain of function mutations in PIK3CA and loss of function mutations in CCM genes, and the role of the leaky gut in driving cavernoma development. RhoA Kinase inhibition with high dose atorvastatin or fasudil are treatments under investigation. Finally, Dan Cooke reviewed genotype-guided Medical Treatment of AVMs. AVMs tissue contains KRAS mutations, which has spurred interest in use of MEK inhibitors (trametinib) and other treatments. With the ability to perform a "liquid biopsy" or endovascular cell biopsy, gene-directed therapies may soon be standard of care.
Challenges in the Diagnosis and Management of Pediatric Stroke in Resource-limited Settings
Beginning the session, Mauricio López-Espejo discussed the state of pediatric stroke management in Chile. Then, Amr Mahmoud reviewed the successful pediatric thrombectomy cases in Egypt, followed by Alvin Ndondo, who presented on "resource- related challenges for children with cerebrovascular Disease," emphasizing the need to decrease infectious causes of stroke (TB, HIV), incorporate telehealth and utilize adult stroke colleagues. Finally, Bejoy Thomas reviewed neuroimaging in resource-limited settings, arguing that availability of MRI is the limiting factor for acute pediatric stroke care, suggesting the development of low-cost MRI as a potential solution.
New Controversies in Pediatric Cerebrovascular Disease
In this exciting session, Paul Monagle concluded that yes, we should consider tenecteplase for acute arterial ischemic stroke in children, presenting a child successfully treated at a community hospital because only Tenecteplase was available. Then, Matthew Amans argued that idiopathic intracranial hypertension (IIH) should be called "symptomatic venous sinus stenosis" and discussed the safety and efficacy data of venous stenting for IIH, predominantly in adults.  
Rounding out the conference Juhana Frösen described how aspirin decreases the risk of subarachnoid hemorrhage in adults with aneurysms (intracranial aneurysm formation and growth occurs by a COX-mediated inflammatory reaction) and argues that aspirin may similarly be used in children with delays in having their aneurysm definitively treated.
The rest of the content can be found here.
Looking ahead to next year, the IPSO 2024 Congress will be held in Toronto, Canada, March 22-24, 2022. Abstracts submission open September, 25.
Selected Scientific Publications: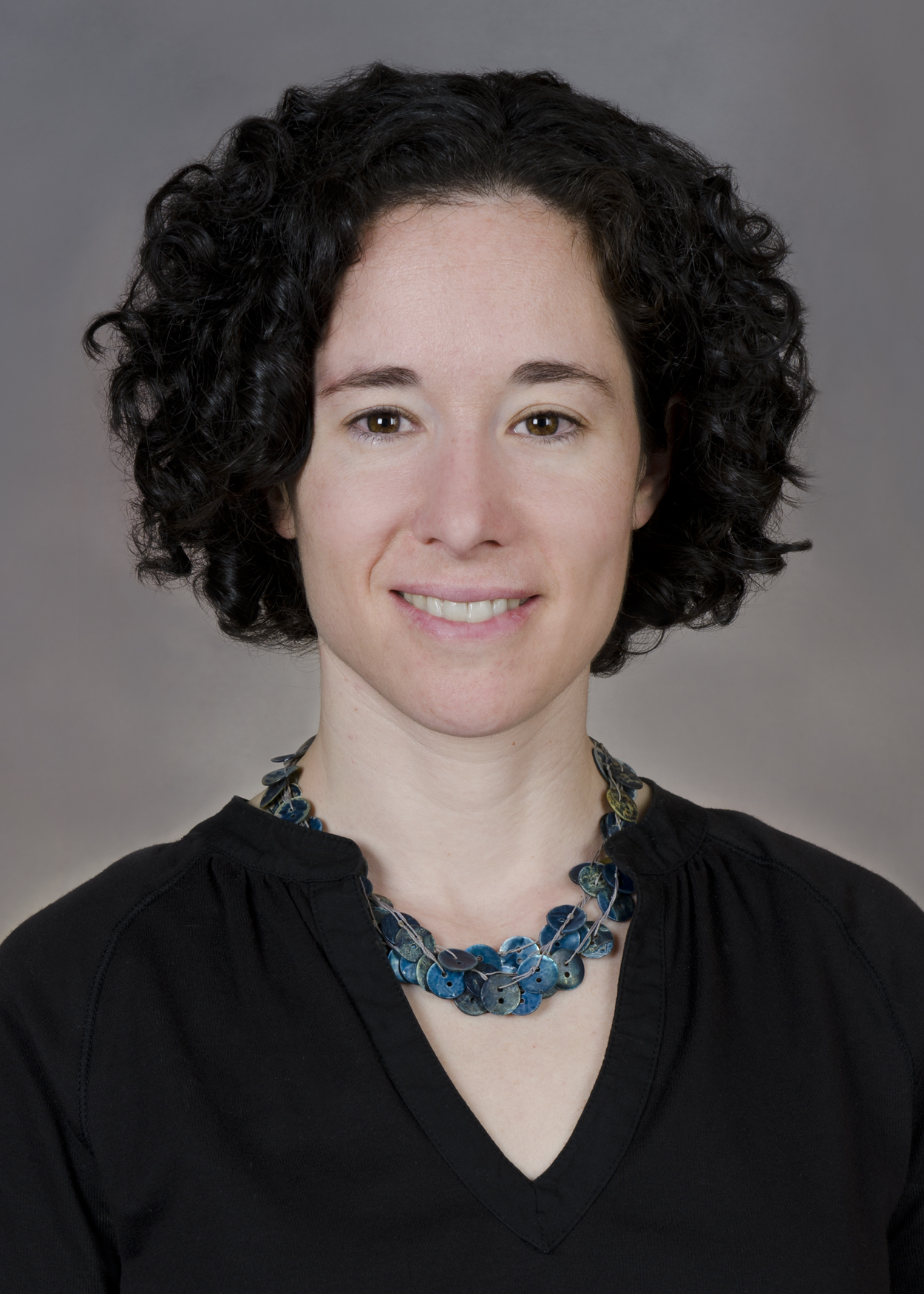 Jenny Wilson
Oregon Health & Science University
Jenny Wilson, MD, is a pediatric neurologist at Oregon Health & Science University in Portland, Oregon. She has been a member of the International Pediatric Stroke Society (IPSS) since 2014 and co-chairs the Communications Committee of IPSO, along with Peter Sporns.