I remember the experience like it was yesterday. I stood outside in the dark, talking to the child's mother on my phone while the child's anxious father and other family members crowded around me. As I took off my mask, I was glad that the darkness would hide my tears. "I am sorry but there is nothing we can do to help your baby."
To give more context, it was around 7 pm one day in 2021. COVID was still in full swing. A tiny baby girl was rushed to our tertiary children's hospital in Indianapolis, Indiana, due to congestive heart failure and ongoing episodes of low heart rate, episodes where she would stop breathing, and have seizures. The mother had suffered complications during delivery and remained at the community hospital where the tiny one was delivered hours earlier. Communicating the sad news to the mother via telephone was all the more heartbreaking. The father of the child, his family and some of the mother's family rushed to Indianapolis. Only the father was allowed into the hospital to be at the bedside with his precious baby girl, his first time being a father.
I walked to him with a heavy heart, having reviewed the scan that little baby had completed minutes before. As the only pediatric neurointerventional radiologist at our tertiary center I am often consulted at times like this. I asked him where the rest of the family was, and would he like to be with them as I discussed the results of the study and next steps. We rushed outside, I greeted the family, and embarked on one of the most difficult conversations I have had in my 14-year career as a physician.
They baby suffered from a Vein of Galen malformation, a vascular anomaly of the brain, where there is confusion in the development of the vessels resulting in abnormal connections between arteries and veins. Sometimes this is diagnosed before birth, sometimes not until delivery, as in this case. Either way mortality remains high for this disease, up to 36%.
The MRI revealed that rather than nourishing her brain, the abnormal shunting of blood through these vessels caused irreversible brain damage. At that moment, the shunt was also causing the heart to malfunction and preventing other organs from being adequately perfused.
Thankfully, sad stories like this one may change due to the recent work done by Dr. Darren Orbach, a pediatric neurointerventional radiologist at Boston Children's Hospital, and his team! As an interventionalist, Dr. Orbach uses imaging to perform minimally invasive procedures. With his many years of training in radiology, Dr. Orbach has developed the first ultrasound-guided fetal intervention for patients who are diagnosed in-utero with a vein of Galen malformation. This allows babies to undergo treatment before delivery, thus hopefully preventing devastating outcomes which can include heart failure, ascites (excess fluid formation that prevents normal growth), irreversible brain damage and death.
Dr. Orbach and his team successfully performed the first case this year, on March 15, after trial enrollment began 9/2022. The team's exciting publication in AHA's journal Stroke announced that early treatment of this dismal disease supported their hypothesis, that fetal intervention of vein of Galen malformation "may decrease morbidity and mortality" (2). Remarkably, although born premature (at 34-weeks' gestation) little baby Coleman required no cardiac support or other interventions. Her parents have been singing the praises of the Boston Children's and Brigham and Women's team since they have carried their little person home.
Since that time, a second fetal patient has been treated successfully, also resulting in no intubation and no heart failure requiring embolization in the newborn period. Dr. Orbach's ongoing clinical trial remains open, and he and the pediatric neurointerventional community encourage clinicians and parents to consider enrolling in the study if their children are diagnosed with this condition in utero. Although the number of treated patients is small to this point, with 18 cases still needed to enroll, the pediatric neurointerventional community remains cautious, but optimistic. "As someone who treats vein of Galen malformation frequently, it is unfortunately all too apparent how many children we are unable to help using the standard approach. The hope with this fetal intervention is to entirely change the course of the evolution of the condition," Orbach says.
We eagerly anticipate further fetal interventions, similar to this one, that we can provide for our children before their birth, enhancing their chances of leading healthy lives. I personally look forward to the day when I can bring happy news to new parents of children with cerebrovascular disorders.
Parents and physicians that are interested in enrolling in the trial to check their website to learn more. https://www.childrenshospital.org/programs/maternal-fetal-care-center/research-innovation/fetal-intervention-vein-galen-malformations. The trial is actively screening and enrolling candidates that can benefit from the intervention.  Interested patients should contact the MFCC at 617-355-6512 or email .
Links to Relevant Scientific Publications:
Khullar, D., Andeejani, A. M., & Bulsara, K. R. (2010). Evolution of treatment options for vein of Galen malformations: a review. Journal of Neurosurgery: Pediatrics, 6(5), 444-451.
Orbach, D. B., et al (2023). Transuterine Ultrasound-Guided Fetal Embolization of Vein of Galen Malformation, Eliminating Postnatal Pathophysiology. Stroke, 54(6), e231-e232.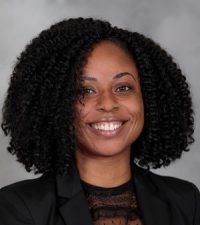 Mesha Martinez, MD
Riley Hospital for Children
Dr. Mesha Martinez is a pediatric radiologist, neuroradiologist and neurointerventionalist. She received her undergraduate degrees in Psychology and Biological Sciences from the University of Delaware in 2005. She gained her Doctor of Medicine from Temple University Hospital in Philadelphia, Pennsylvania in 2009, with subsequent training in internal medicine (2010), and completed a diagnostic radiology residency graduating in 2014. She did additional training in pediatric neuroradiology at Lucille Packard Children's Hospital Stanford and pediatric radiology at the Children's Hospital of Philadelphia and St. Christopher's Hospital for Children (Philadelphia). She then went on to complete ACGME-accredited fellowships in Pediatric Radiology at the Children's Hospital of Philadelphia (2015), Diagnostic Neuroradiology at the Icahn School of Medicine Mount Sinai Hospital in New York City (2016) and Endovascular Surgical Neuroradiology at The Johns Hopkins Hospital in Baltimore) (2018). She earned her certification from the American Board of Radiology in 2016.
Currently she is the director of Pediatric Neurointerventional Radiology at the Riley Hospital For Children, having initiated many pediatric dedicated cerebrovascular programs serving the children of Indiana and surrounding areas. Dr. Martinez specializes in vascular diseases of the brain, spine, head and neck in adults and pediatrics. Her research and clinical interests include diagnosis and treatment of perinatal and pediatric neurologic, neurovascular and psychiatric diseases. She is passionate about medicine and patient advocacy, and her practice philosophy is to ensure her patients get the best care. In her spare time she enjoys reading and spending time with her husband and sons.